Texten nedan är maskinöversatt från tysk originaltext.
Useful information about analogue installation measuring devices
What was an analogue panel-mounted measuring device?

Types and modes of operation

Selection criteria for analogueue panel-mounted measuring instruments

Our practical tip: Read it correctly

FAQ - Frequently Asked Questions about Analogue Mounting Meters
What was an analogue panel-mounted measuring device?
The answer is already in the name. These are measuring instruments for installation in new or existing systems. The measured values are determined in an analogueue way. This distinguishes the devices from digital built-in measuring instruments that work with digital electronics.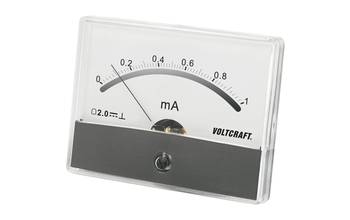 In an analogue measurement, the measurement signal is continuously processed, whereas in the case of a digital measurement, it is processed in stages. In many cases, analogue instruments are equipped with pointers that display the measurement result on a numerical or color scale. Analogueue counting technology is also available, which functions mechanically, electromechanically or electromagnetically, including operating hours meters.
These measuring instruments are usually equipped with a number display or a running display, whereby there are models with different numbers. Part of the value is specified with decimal places, for example, this is the case with classical analogue energy meters (Ferraris counters or three-phase counters).
Analogueue panel-mounted measuring devices with pointer and number scale are in many cases instruments for measuring the current, also called ammeter or ammeter, or the electrical voltage, so-called voltmeter or voltmeter .
Types and modes of operation
There are a variety of analogue panel-mounted measuring devices that work analogueue and are intended for installation. The structure and operating principle can vary depending on which parameters are to be recorded and measured. Below is a small overview of frequently used analogue measuring technology: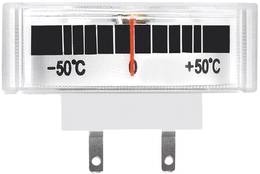 Panel-mounted measuring devices with moving coil meter
Many pointer measuring devices are electromechanical built-in devices with a moving coil meter. The latter essentially provides for the pointer deflection on the respective scale. Inside there is a rotating coil in the field of a permanent magnet .
If current flows in, a second magnetic field is created that magnetizes the soft iron core in the rotary coil meter. The electro and permanent magnet will come off, was the result of the coil turning and the pointer deflects . Two coil springs serve as counterforce to the magnetic force, which on the one hand enable the power supply and on the other hand reset the hands to the rest position.
In principle, only direct current can be measured with rotary coil meters, but by connecting a rectifier in series, it is also possible to measure alternating current. If the electrical voltage is to be measured, it is necessary to connect series resistors.
Rotary coil meters can be used not only as ammeters and voltmeters, but also for measuring other values, such as temperature, power and resistance.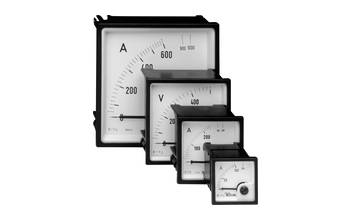 Panel-mounted measuring devices with moving iron ammeter
In addition, there are pointer measuring instruments with moving iron ammeter. The basic functionality is very similar to that of moving coil meters, but built-in devices with rotary irons are also suitable for measuring alternating currents without the need for a rectifier to be connected upstream. Inside there are two iron core, one of which is firmly connected to the coil and one to the pointer. The current flow magnetizes the iron core and repels – the pointer moves through the rotation of the iron core to which it is connected. A spiral spring acts as a counterforce, which finally stops the pointer.
Analogueue panel-mounted measuring devices with moving iron ammeter are used for the measurement of alternating currents and generally for larger currents and voltages. The panel-mounted measuring devices are more robust than rotary coil measuring devices , but cannot detect very low currents and voltages. Rotary coil meters are better suited for such cases.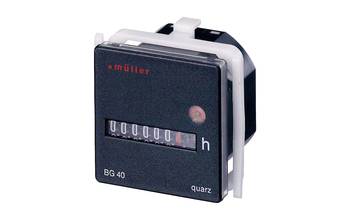 Panel-mounted measuring devices with mechanical and electromechanical counters
Frequently used mechanical counters are roller counters. Several rollers on one axis are rotated separately by a mechanism and engage in the next position. The roles are numbered 0 to 9 . Once a wheel has turned completely (the 9 snaps to 0), the number wheel jumps to the left of it by a number. The digits can be read immediately.
In the case of electromechanical counters, the rollers are driven electrically by an electromagnet or an electric motor . Panel-mounted measuring devices with counters are, for example, operating hours meters, electricity meters and odometer in vehicles, although nowadays mainly digital or electrical test devices and measuring instruments are used in vehicles.
Digital measuring devices are also increasingly being used for energy consumption.
Selection criteria for analogueue panel-mounted measuring instruments
The use of built-in measuring devices is always useful if a certain value is to be measured permanently or regularly at the same place. In our online shop you can select analogueue instruments according to similar criteria as digital measuring instruments.
Important aspects of selecting the right measurement technology include:
Measuring function: The question of which variables can be measured is of course very important. Among other things, measuring instruments and test equipment are available for measuring alternating current, direct current, alternating voltage, direct voltage, temperature and frequency as well as pulse meters and mechanical counters, which can be used for various counting tasks.
Measuring range: You can select the products in our online shop according to the measurable range or the minimum and maximum limit values.
Installation width and height: Since these are instruments to be installed in a new or existing system, it is important to select models with suitable dimensions.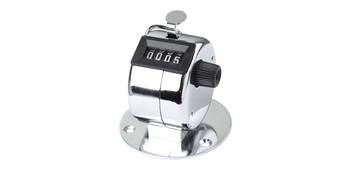 Further selection criteria for a panel instrument depend mainly on the application purpose and the application environment. Depending on the environment, for example, a certain degree of protection may be required. The type of installation can also play a role. Many of the measuring instruments offered are intended for installation in control panels.
Mechanical counters for table mounting, pulse counters with clamp fixing and versions for rail mounting in distributors are also available. If you need a meter, make sure that there are enough digits for your purposes and if it is possible to reset it.
Practical tip: Read correctly
A disadvantage of analogueue measuring instruments, especially when using devices with pointers and scales, is that when reading the measured value errors occur more easily than when using digital devices. It is important to avoid parallax errors by looking perpendicular to the scale.
Mirror scales , which are installed in some measuring instruments and are designed to prevent measurement deviations, which can arise through an inclined top view, are helpful. This is a reflective surface that is parallel to the scale with the line mark . If the pointer and its mirror image overlap exactly, one can be sure to look vertically on the scale.
FAQ - Frequently Asked Questions about Analogue Mounting Meters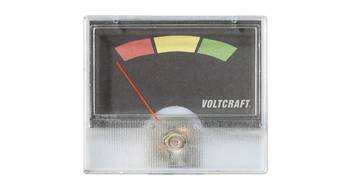 Are modern digital measuring devices not preferable to the "old" analogueue?
In fact, digital measuring devices, such as multimeters for measuring various parameters, have replaced their analogueue counterparts over a large area in many areas. However, there are still uses where analogue instruments are equal to or even superior to digital devices. An advantage of analogue current meters, for example, is that current fluctuations can be detected immediately by pointer deflections.
In general, fluctuations and trends can be tracked more easily and significantly more clearly than with digital devices. In addition, measuring instruments with scales provide a better overview of the entire measuring range.
Texten nedan är maskinöversatt från tysk originaltext.     Useful information about analogue installation measuring devices What was an analogue panel-mounted measuring device? Types and modes of operation Selection cr...